What are Warts?
Warts are noncancerous growths that appear when your skin is infected by one of the many forms of human papillomavirus (HPV). This virus causes excess cell growth, making the outer layers of the skin thick and hard. While warts can appear on any part of the skin, they most likely grow on the hands or feet.
Common characteristics of a wart include:
Are small, rough, or grainy bumps
Appear skin-colored, pink, tan, or white
May be sprinkled with black pinpoints, which are clotted blood vessels
May bleed
Who is a Good Candidate for Wart Treatment?
If you have a wart that is painful or changes color, are bothersome or uncomfortable, or have numerous warts that begin to appear, you can benefit from treatment. A consultation at our office is needed to best diagnose and treat your wart(s). Please contact us today to schedule your appointment.
What to Expect During Wart Treatment?
Many common warts go away on their own, without treatment, though it may take years. The goal of treatment is to destroy the wart, trigger the immune system to fight the virus that causes the wart, or both. Treatment may take weeks or months for optimal results. Depending on the location and symptoms of your wart, you may benefit from the following treatments:
Salicylic acid: This keratolytic wart medication removes layers of the wart over time until it is gone. This technique may be combined with occlusion, 5-fluorouracil, or cryotherapy.
Cryotherapy: Liquid nitrogen will be applied to freeze the wart, causing a blister to form under and around the wart. The dead tissue will then fall off over time.
Intralesional Candida Antigen: If salicylic acid or cryotherapy do not work, intralesional Candida antigen can be useful to boost a long-lived immune response.
Electrodesiccation/Curettage: A destructive technique to quickly and efficiently remove stubborn individual lesions.
Laser treatment: Pulsed-dye laser treatment cauterizes small blood vessels, which causes the wart to fall off.
Alternative therapies: Our providers sometimes need to use less commonly utilized medications in order to eradicate warts. Imiquimod, Veregen, squaric acid, cidofovir, 5-fluorouracil, cimetidine, and pyruvic acid are all used in select cases.
Following Wart Treatment
Following wart treatment, there is no downtime required, and your wart should be completely gone. Patients may experience slight burning or stinging during treatment, but this should dissipate once treatment is completed.
In order to reduce your risk of common warts in the future, you should avoid direct contact with warts, including your own, do not pick at warts, avoid biting your fingernails and do not brush or shave areas that have warts. Warts are contagious and are passed mainly by direct skin contact. Because of this, be sure not to share your towels, razors, or hygiene products with others.
Schedule a Consultation
If you are unhappy with a wart and would like to learn more about wart treatment at HMGS Dermatology, contact our office today! We will be happy to help you schedule your consultation with one of our dermatology specialists to get you started.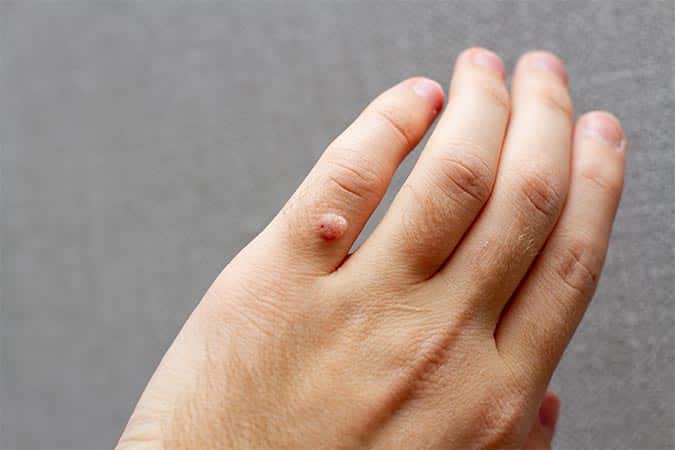 Get Started With A Visit!
Fill out the form below and we will reach out to you shortly to schedule an appointment.