Levulan Kerastick combines a photosensitizing medication with the power of blue light therapy to effectively treat actinic keratosis. Actinic keratoses are patches of rough, scaly skin that result from chronic exposure to ultraviolet rays. If untreated, actinic keratosis can develop into squamous cell carcinoma so it is important to target this condition quickly and effectively. A new and effective way to treat actinic keratosis is with Levulan Kerastick and BLU-U.
What is Levulan Kerastick and BLU-U?
Levulan Kerastick and BLU-U therapy is a two-step treatment that clears actinic keratoses and promotes collagen production to restore healthy skin. Levulan Kerastick is a topical medication that, when applied to actinic keratoses, can be activated by blue light to remove the atypical cells which make up the actinic keratosis.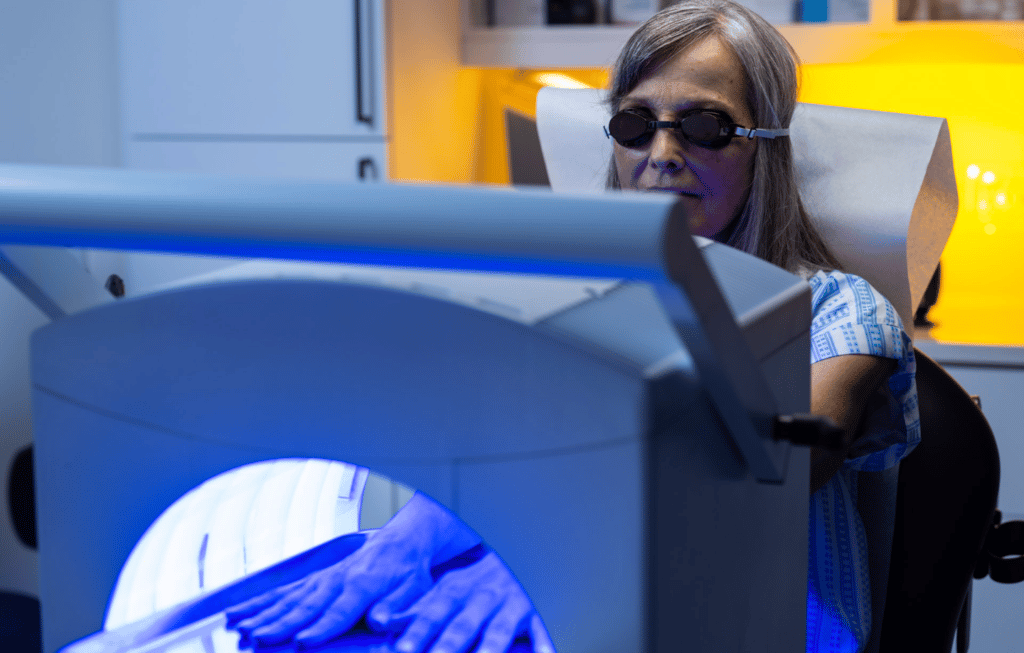 Who is a Good Candidate for Levulan Kerastick and BLU-U?
Men and women of all ages suffering from actinic keratoses are good candidates for this treatment. You will not be a good candidate for Levulan Kerastick treatment if your skin is sensitive to blue light or if you are allergic to aminolevulinic acid or any other ingredients in Levulan Kerastick. You should also consider a different procedure if you have porphyria, a rare blood disorder that causes abnormal light sensitivity.
What to Expect During Levulan Kerastick and BLU-U Therapy?
First, your provider will apply the Levulan Kerastick topical solution to your skin lesions, where the actinic keratoses have developed. This topical will be left on for at least one hour before the activation period using the BLU-U Blue Light Photodynamic Therapy Illuminator. This device is placed over the skin affected by actinic keratoses. It will emit blue light for about sixteen minutes without even touching your skin. You may feel a slight tingling or burning during the blue light treatment so if you feel too uncomfortable, let your provider know and they can reduce the blue light exposure or provide cooling.
Following Levulan Kerastick and BLU-U Therapy
For the first few days after treatment, you may notice scaling, swelling, and redness but this will resolve on its own, usually within a week. It is not advisable to expose your treated area to any ultraviolet light for 48 hours after treatment.
You should begin to see results in 7-10 days and results last up to a year for most patients. However, every person is different, so it is possible to have a recurrence of actinic keratoses after six months. Your provider will track your treatment progress and can administer another treatment if a recurrence occurs.
Schedule a Consultation
If you have actinic keratoses and want to learn more about this innovative treatment, schedule a consultation with HMGS Dermatology at one of our three locations in New Jersey.
Get Started With A Visit!
Fill out the form below and we will reach out to you shortly to schedule an appointment.